Cabe Hall Rental Info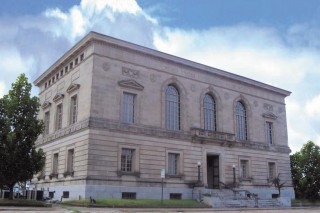 An incomparable site for concerts, lectures, master classes, meetings, the Regional Arts Center is also a breathtaking rental facility for weddings, receptions, reunions, and perfect for business seminars, political rallies and press conferences.
This former U. S. Federal Courthouse was built in 1909 at a contract price of $100,552. The building was completed in 1911. In 1931, the official headquarters of U. S. District Court moved to Sherman from Texarkana. In 1933 the building was donated to Bowie County. In 1985 Texarkana Regional Arts and Humanities Council (TRAHC) leased and occupied the building.
Following a capital campaign, renovations on the building were completed at a cost of $1.6 million. The entire west end of the first floor has been converted into museum quality, high security exhibit space. The former courtroom, now the Horace C. Cabe Great Hall, has decorative painting done by the same artisans that worked on the Perot Theatre.
Since the re-opening of the Regional Arts Center in 1992, TRAHC has annually presented a 12-month schedule of touring exhibitions and exhibitions organized by TRAHC displayed in the three high-security galleries. With the only high-security galleries between Dallas and Little Rock, the Regional Arts Center is a frequent stop for visitors interested in seeing high quality art exhibitions in the area.
In addition to programs, gallery spaces and exhibitions, the east side of the building contains the TRAHC administrative offices. The west side houses a meeting room, and kitchen. The third floor is used as TRAHC office space, and the lower level is the home of the ArtsSmart Institute for Learning.
The Horace C. Cabe Great Hall is available for rental for wedding receptions, parties, meetings and more!
Rentals
It is TRAHC's desire to share this beautiful facility with those planning special events. This grand building is over 100 years old and its architecture and significant history in this area are irreplaceable. All those who enter its grand doors become the custodians of this rich heritage, and as such, must always be extremely careful of its use. Please realize that any abuse, no matter how accidental and insignificant it may seem, greatly impacts this wonderful building. The following information, rules, regulations, and the enforcement of each were created with this in mind.
Please download the following information regarding Rentals.
Contact TRAHC's Regional Arts Center today about renting Cabe Hall for your next event!
Send Email
903.792.8681
Downloads
2018 RAC FAQs.pdf
Optional setup.pdf
RAC Rental Packet
Rental Request Form
Fields marked with
*
are required.